About Starfish Media
Starfish Media, a South Florida based business, where production meets creativity on the screen and on the web.
Cindy Martin, Starfish Media owner, has 25 years of television experience in producing, researching and writing.  For 18 years, Cindy worked as the Florida Producer for "America's Most Wanted" with Executive Producer/Host John Walsh.  She's been a proven freelance tv producer for numerous series and production companies.
During the past five years, Cindy has broadened her horizons, learning web design, web videos and using her creative touch to customize small business, non-profit and personal sites.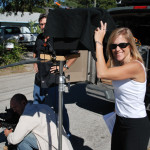 In her personal life, Cindy is the mother of three daughters, one with a complex case of autism.  Cindy is involved in the autism community and has a working knowledge of non profit agencies.  Her interests include long distance running, family issues, crime prevention and travel.
Whether it's web design, TV production or research, contact Cindy Smith:
Cindy@starfishmediaproductions.com Cell: 954-295-8994      
Home Page